3.3V/8 MHz Version Pro Mini Kits With Atmega168


Useful Tips :

Because the Pro mini and Mini USB Adapter are separate, there is no reset circuit on pro mini. So there sometimes may happen this accident like yours.

There is an skilled way :

First holding the reset button, then release reset button immediately when the LED of  TX RX  first flashing, and then you can download the code to your pro mini smoothly.
Pro mini 168
The Pro Mini is a microcontroller board based on the ATmega168 (datasheet). It has 14 digital input/output pins (of which 6 can be used as PWM outputs), 6 analog inputs, an on-board resonator, a reset button, and holes for mounting pin headers. A six pin header can be connected to an FTDI cable or Sparkfun breakout board to provide USB power and communication to the board.
 
The Pro Mini is intended for semi-permanent installation in objects or exhibitions. The board comes without pre-mounted headers, allowing the use of various types of connectors or direct soldering of wires. The pin layout is compatible with the Arduino Mini.
 
There are two versions of Pro Mini :

One runs at    3.3V and 8 MHz

The other at    5V and 16 MHz
 
And this kit is 3.3V/8 Mhz Pro Mini Kits With Atmega168

It's blue! It's thin (0.8mm)! It's the Arduino Pro Mini! SparkFun's minimal design approach to Arduino. This is a 3.3V Arduino running the 8MHz bootloader (select 'Arduino Duemilanove w/ 168' within the Arduino software). Arduino Pro Mini does not come with connectors populated so that you can solder in any connector or wire with any orientation you need. We recommend first time Arduino users start with the Duemilanove. It's a great board that will get you up and running quickly. The Arduino Pro series is meant for users that understand the limitations of system voltage (3.3V), lack of connectors, and USB off board.
We really wanted to minimize the cost of an Arduino. The Arduino Pro Mini is like the Arduino Mini (same pin out) but to keep the cost low, we used all SMD components, made it two layer, etc. Connect the mini pro to your pc using the Arduino usb-serial.

Parameter :

Operating Voltage     3.3V
Input Voltage 3.35 -12 V
Digital I/O Pins 14 (of which 6 provide PWM output)
Analog Input Pins       6
DC Current per I/O Pin       40 mA
Flash Memory     16 KB (of which 2 KB used by bootloader)
SRAM       1 KB
EEPROM       512 bytes
Clock Speed   8 MHz
 
Features:
* ATmega168 (16K) running at 16MHz with external resonator (0.5% tolerance)
* USB connection off board
* Supports auto-reset
* 5V regulator
* Max 150mA output
* Over current protected
* Reverse polarity protected
* DC input 5V up to 12V
* On board Power and Status LEDs
Dimensions:
* 0.7x1.3" (18x33mm)
* Less than 2 grams
Mini USB Adapter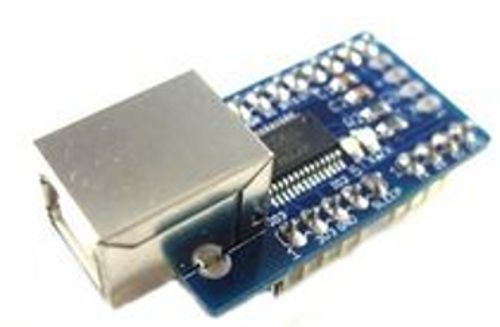 Mini USB Adapter :
This board converts a USB connection into 5 volt TX and RX that you can connect straight to the Arduino Mini or other microcontrollers, allowing them to talk to the computer. It is based on the FT232RL chip from FTDI (drivers are included with the Arduino software).
 
Photo of an original Mini USB Adapter
Pinout of the original Mini USB Adapter


Pinout of the revised Mini USB Adapter
Connecting to the Mini
See the
guide to the Mini
for information on connecting the adapter to the Mini.
Write a review

Loading ...
Join our newsletter today, to get latest product information and promotion code.

Loading ...