Mini USB RfidLoginer (To Protect Your PC)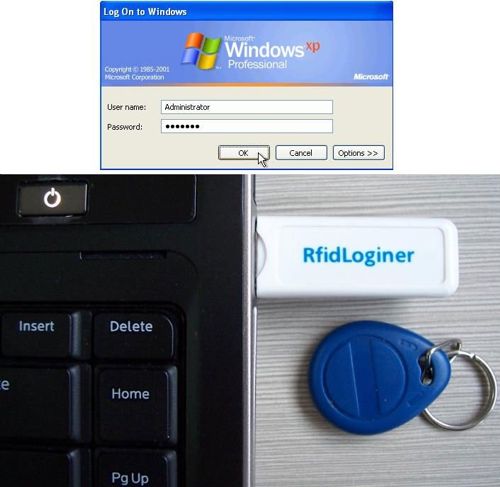 The YHY201A is a RFID reader.This reader acts as a USB HID keyboard device.This is the basis for using it as a password entry device.There is no extra software needed for YHY201A, the user can just use it as a keyboard.

When YHY201A is deployed, no software is needed.It uses standard USB drivers supplied by the operating system such as Windows, Macintosh and Linux.

When you need to login to your computer or secure web, simply wave your RFID tag across the RfidLoginer while the cursor is in the password field. The reader sends keystrokes to the PC and, if valid, the login takes place.

Every login operation will be end with "Enter" key.
 
Special :

1)  Ideal for Secure Password Login

2)  Strike the password for you when it sniffing the tag

3)  Do not worry about forgetting your password again

4)  It is a smart contactless password loginer

5)  It is a contactless RFID keyboard

6)  Just Plug and Play


Special Features :               
           
1、Contactless USB RFID reader

2、Act as a HID keyboard device
 
3、Up to 4 secure factors

4、Up to 46 keys space

5、Frequency: 13.56 MHz

6、Typical time to read cards: <100ms

7、Communication interface: USB
 
8、Power supply: DC 5V, no external power required

9、Blue LED indicator

10、Support OS: Windows, Macintosh, Linux

11、Mechanic and environmental characteristics: 

    - Dimensions: 63*18*8 (mm)

    - Operating temperature: -10 ~60℃

    - Storage temperature: -20~85℃

    - Relative humidity: up to 95%
 
    - Color : White

    - Weight: 8g


Applications :

1) PC, internet secure password login

2) Employee identification

3) Time and attendance

4) Form filter to existing software applications

5) Library, Hoteling, meeting attendance, visitor attendance

6) Secure printing

7) Point of sale

8) Membership applications


Before using the RFID tags, the user needs the writer to write login information into the tags.

Example1 : Password login
 


Example2: User Name and Password login (2 secure factors)
 


Example3: Web link
 

Example4: Library Login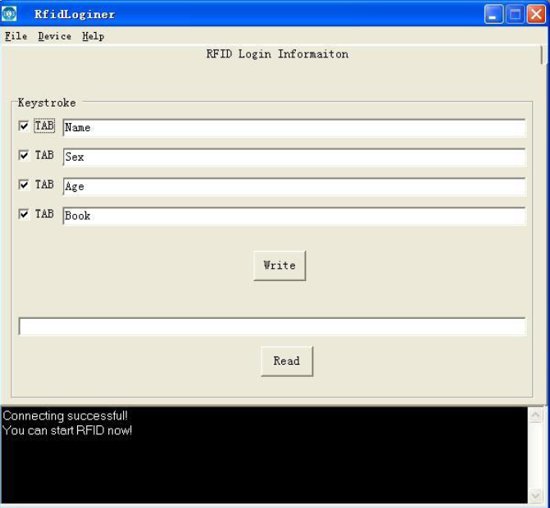 Kits Include :



To Protect your Ipad with Ipad USB Adapter as below :




下载pdf文档资料.pdf
Write a review

Loading ...
Join our newsletter today, to get latest product information and promotion code.

Loading ...