Product |
Shields
| Classical VS1003 MP3 Sound Module

Classical VS1003 MP3 Sound Module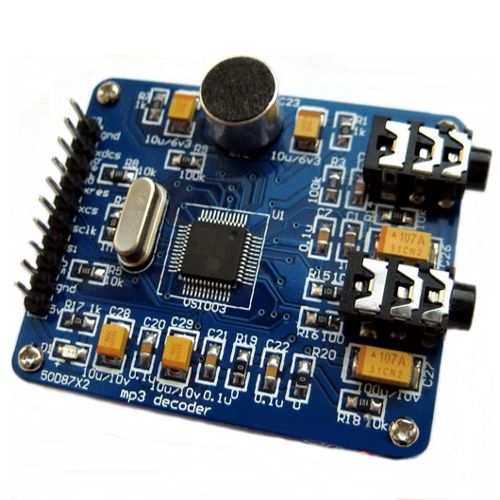 Feature :
1、VS1003:VS1003 audio decoding format:MP3、MP3+V、WMA、WAV、MIDI、SP-MIDI;The tape code format:IMA ADPCM (mono),a microphone and Line into (Line input) two input method;Support MP3 or WAV flow;Low power consumption;Has the internal phase locked loop clock frequency of an times;High quality stereo digital-to-analog converters (DAC);16 adjustable inside of digital converter (ADC);High quality stereo earplugs drive (30 Ω);Separate simulate、digital and IO the power supply;Serial data and control interface (SPI).
2、SPI interface, control signal lines are drawn out.
3、One headset and audio output interface.
4、One microphone, used for recording.
5、One line_in input interface.
6、One indicator.
7、On-board 3.3 V and 2.5 V LDO 1117, and can supply the max 800 mA current.
8、Single power supply : + 5 VDC, capacitance filter.
9、12.288 Mhz crystals.
10、PCB size : 50 x40. 5 mm.
This item can be compatible with AVR、ARM and Arduino Series MCU
And it can be used with some basic sound module such as SD module and other Mp3 module.
Now jst start to built your own MP3 Player with this Classical VS1003 MP3 Sound Module.
Click here to download the corresponding Document Zip File
Document Zip File List : Driver、Schematic Program、and Datasheet
Write a review

Loading ...
Join our newsletter today, to get latest product information and promotion code.

Loading ...