Product |
Shields
| Stackable Bluetooth Shield V2.2
Stackable Bluetooth Shield V2.2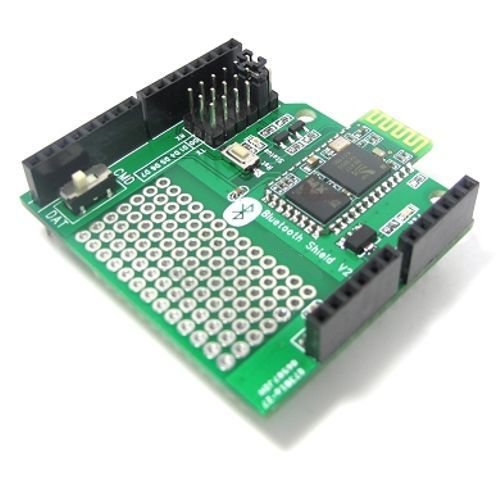 Please notice that : this item have been sold out and there is no one in stock by now !

This Bluetooth shield is a serial port Bluetooth module (Master and Slave) breakout board, and it compatible with Arduino,  you can directly plug in with Arduino and use the UART port for Bluetooth communication.
1、Now this shield is full Arduino footprint , and add the stackable socket for connecting with other Arduino shield like Ethernet shield , SD card shield.

 
2、Free UART connection setting. You can use from D0,D1, D4-D7 as UART pins, not just the D0, D1. The BT shield v1.1 just can communicate with Arduino board, and it's inconvenient to change its setting by AT command through USB. Now the new board has a switcher, you can change the module connection, so when you put the switcher to the "To Board" side, it can control by Arduino or IFLAT32, but to "To FT232" side, it connect to the FT232D IC, you can use the Arduino IDE or other serial monitor software to send it the AT command.About the AT command , you can find more detailed information
here
. 



3、In the free area, we provide you a prototype area, and you can build a small circuit there for your Bluetooth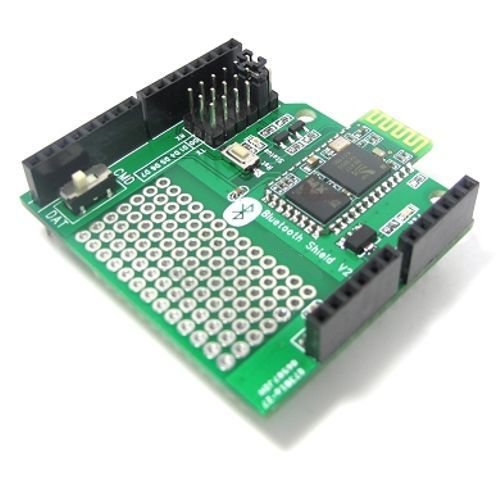 Documents Download :
Click here to download the Schematic


Click here to download
the Datasheet
Write a review

Loading ...
Join our newsletter today, to get latest product information and promotion code.

Loading ...