New Version Pro Mini 328 Kit -Arduino Compatible


Description :
Arduino New Version Pro Mini Kit is an Arduino-compatible development platform aimed at teaching the basics of Arduino programming as efficiently as possible. It requires zero assembly, wiring, or soldering, so you can jump right into programming the Arduino New Version Pro Mini Kit to control LEDs, buzzers, light sensors, and more. There's even a small prototyping space so you can add your own parts!
Once you' ve gotten a firm grasp of the programming, you can snap off the individual components of the Arduino New Version Pro Mini Kit for use in future projects. Those components include an Arduino Pro Mini microcontroller platform and an FTDI Basic Breakout to program it.
Arduino New Version Pro Mini Kit comes loaded with the Arduino Optiboot bootloader and performs the same as an Arduino UNO when loading code so educators can combine it with
MiniBloq
or
MODKit
to reach students with no programming experience.
Note: The first 3 rows of the protoboard are bussed together so you can use the for GND, VCC, or whatever else you need to connect together.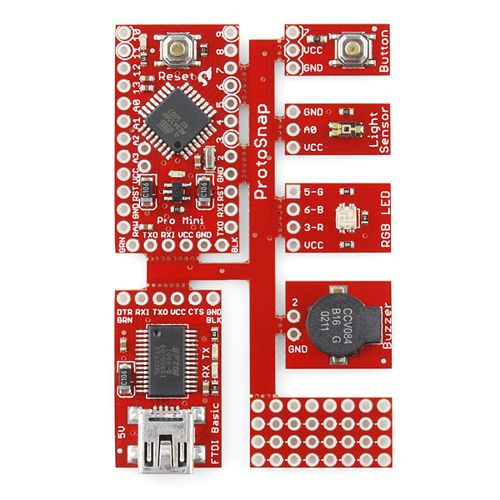 Features :

1) ATmega328 running at 16MHz with external resonator (0.5% tolerance)

2) USB connection off board

3) Supports auto-reset

4) 5V regulator

5) Max 150mA output

6) Over current protected

7) Reverse polarity protected

8) DC input 5V up to 12V

9) On board Power and Status LEDs
Included on the Board :
1 x
Arduino Pro Mini 5V/16MHz (With Optiboot)
1 x FTDI Basic Breakout 5V
1 x USB Mini B Cable
1 x Buzzer Module
1 x RGB LED Module
1 x Light Sensor Module
1 x Push Button Module
1 x Protoboard Module

Click to download the Zip Document

Zip Document List :
1、Schematic
2、Eagle Files
3、Getting Started Guide
4、Example Code
Notice: This item is originally designed by sparkfun and sparkfun own the attribution. 
Write a review

Loading ...
Join our newsletter today, to get latest product information and promotion code.

Loading ...