MMA7660 Triaxial Acceleration Sensor Module
Description :

Arduino MMA7660 Triaxial Acceleration Sensor  is used for signal disposal、unipolar low-pass filter and temperature compensation technology because it use low-cost micro capacitive accelerometer and four ranges which is optional for user choosing in four of the sensitivity. This device include a low-pass filter and zero g compensation.This product also provides sleeping mode and so it's ideal choice for products with battery handheld devices .

Arduino MMA7660 tri-axial accelerometer module is is based on the Freescale MMA7660FC. The MMA7660FC is an I2C Digital Output , very low power, low profile capacitive micro machined accelerometer featuring a low pass filter, compensation for 0g offset and gain errors, and conversion to 6- bit digital values at a user configurable output data rate. The device can be used for sensor data changes, product orientation, and gesture detection through an interrupt pin (INT).

It have optional sensitivity , low power consumption, high stability, etc.

Mainly Parameters As Follows :

1、Power supply is flexible: 4.5V~6V or 3.3V

2、Digital Output (I2C): 3.3V TTL (5V compatible)

3、Low Power Current Consumption

4、Configurable Samples per Second from 1 to 120 samples a second.

5、Auto-Wake/Sleep Feature for Low Power Consumption

6、Tilt Orientation Detection for Portrait/Landscape Capability

7、Gesture Detection Including Shake Detection and Tap Detection

8、Robust Design, High Shocks Survivability (10,000 g)

9、Coppering PCB

Speicification :

Operation on this module is very easy. We supply code for Arduino. More operation or configuration can refer to datasheet.

Power supply is lexible. By default, the module's power supply is 5V. We bridge the two pads with a 0 ohm resistor.

You can also bridge the pads with soldering tin, as shown in the following picture :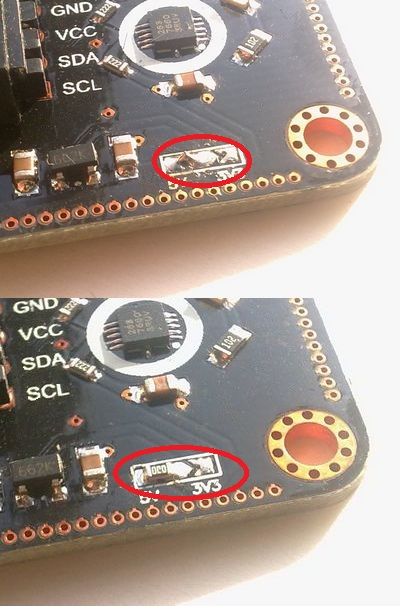 If your power is 3.3V, just remove the resistor and bridge the middle pad with 3V3 pad.
INT pin of MMA7660 is very important. This module also has INT pins :
The two pads both connect to INT of MMA7660 chip.

Test Show :

Here we supply code for Arduino. Download the Arudino code for MMA7660 and extract it to your library folder in your Arduino installation. Mine is here: C:Program Files/arduino-0022/libraries

Connnect this module with Arduino :

Arduino GND -> MMA7660 GND
Arduino 5V -> MMA7660 VCC
Arduino A4 (SDA) -> MMA7660 SDA
Arduino A5 (SCL) -> MMA7660 SCL 
 

If you have Arduino Sensor Shield, then connection is pretty easy :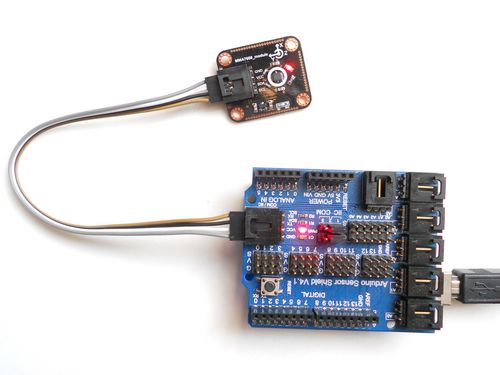 Upload the code to Arduino :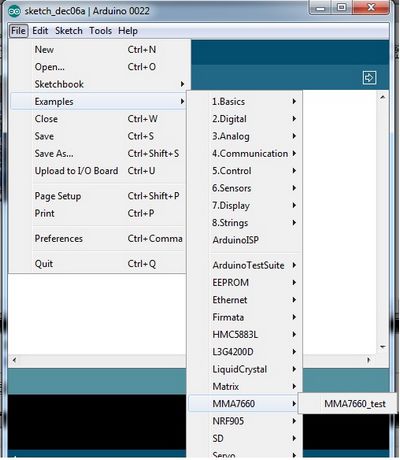 Then open the Serial Monitor. You will get the result :

 
Write a review

Loading ...
Join our newsletter today, to get latest product information and promotion code.

Loading ...