Product |
Shields
| Wave Shield V2.0
Arduino Wave Shield V2.0

Description :

Arduino Wave Shield V2.0 now adding quality audio to an electronic project is not difficult any more. We designed a module for Arduino to solve this problem. It can play up to 14KHz/16bit WAV audio files and 32KHz/16bit AD4 audio files of any length. It's very chip, well assemblied. It has an DAC output and PWM output, which could drive earphone and 0.5W speaker respectively. Audio files are read off of an SD/MMC card, which comes along with this module. To control this module, only 3 IO pins are used, which saves much trouble while interface is not enough in your project. Most important, programming is pretty easy.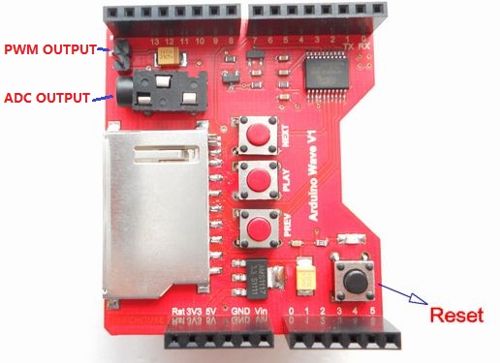 The module comes with an Arduino example code for easy use. Only one function in the code is needed for all the controlling program. Audio is played asynchronously as an interrupt, so the Arduino can perform tasks while the audio is playing.

Demo music can be download from our web, containing both AD4 and WAV files. There is also a AD4 software by which you can convert any MP3 to AD4 file.Output is mono, into L and R channels, standard 3.5mm headphone jack and a connection for a speaker.

Feature :

1、Support SD card (Max 1GB)

2、Support AD4 (6KHZ ~ 36KHZ) and WAV (6KHz~14KHz) format.

3、Support 4 Bit ADCPM format files.

4、Interfaces for earphone and speaker.

5、16 Bit DAC / PWM audio output.

6、Two line serial interface, control it only via 2 pins.

7、Sleep current: 3uA

8、Mono output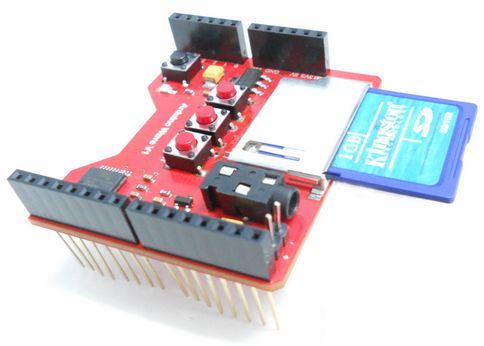 Dimention :
L x W x H : 44mm x 51mm x 24mm
Example :
Here we will show how simply you could make it work. For more detailed information, please refer to the Manual.
Step 1
Download the demo audio file 0000.wav and put it in the root directory of SD card.
Step 2
Plug in the SD card and connecting it to Arduino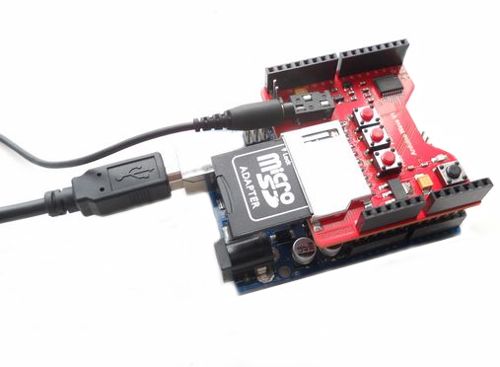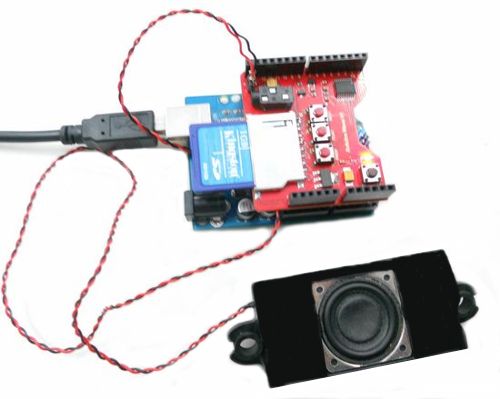 Step 3
Download code and upload to Arduino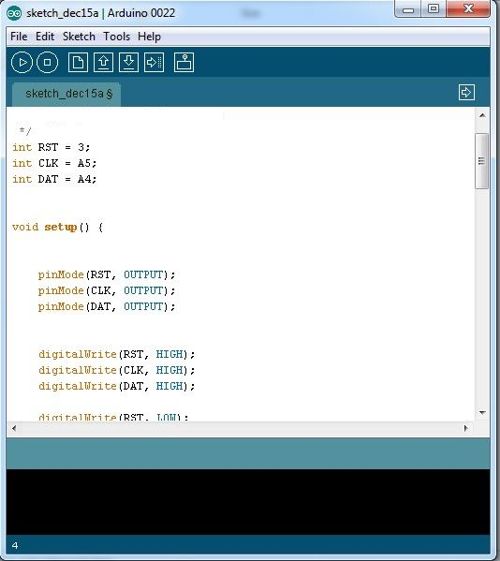 Step 4

Press Reset button (the black one, press down for 0.5 second then release) and enjoy your music.

 
Write a review

Loading ...
Join our newsletter today, to get latest product information and promotion code.

Loading ...