WTV020SD-20SS Music Sound Chipset

WTV020SD-20SS Music Sound Chipset is the core processing chip of MP3 Sound Module Mini SD Card and MP3 SD Card Sound Module.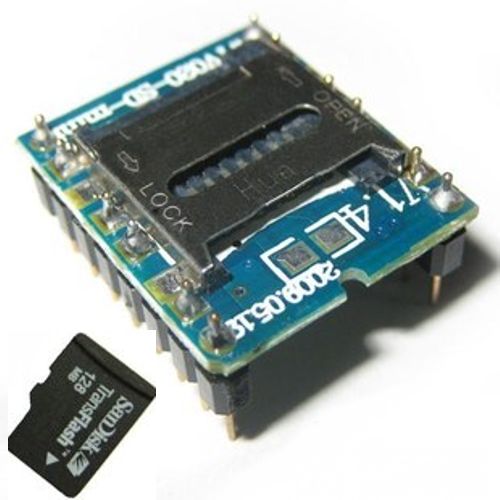 Feature :

1、OTP (one time programmable) voice chip

2、Models WTV020SD-20SS

3、20sec at 6KHz sampling rate

4、Support sampling rate from 6 KHz to 22 KHz

5、Support WAV (16Bit, mono) sound files

6、Optional PWM and DAC audio output

7、With 16 bits DAC audio output.

8、PWM output direct drive 0.5W/8Ω speaker

9、Mute will not take up any memory space.

10、Same messages can be re-used for saving memory size.

11、Control interfaces: key, key combination, parallel interface, serial interface

12、Operating voltage: DC 2.5V to 3.7V

13、Standby current 2uA, with sleep mode to save power.

14、SSOP20 package is available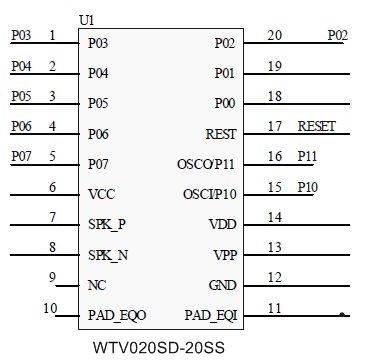 Description :

WTV020SD-20SS is one kind of core processing chip. It supports MP3 control mode、key control models (3-voice and 5-voice)、loop play mode and two-line serial control mode . Control mode is set while producing, which can not be changed through configuring.

1) : MP3 control mode: play / stop, next, last, volume +, volume - and so on.

2) : Key control mode (3 voice): one key to trigger a voice, can play 3 pieces of voice and adjust volume. All keys are default as no duplicate trigger for pulses.

3) : Key control mode (5 voice): Three sub-control methods, 1. Key can not be duplicate-triggered by pulse; 2. All keys are play / stop trigger (No single recycled); 3.All keys are Play/Stop (single can be recycled).

4) : Loop play mode: After powered on, no need to trigger any I / O port, directly play all the voice in SD card, with functions to record playing points while power off, from which it plays while powered on again. Two sub-control modes, 1. P04 has pulse-triggered play/pause function; 2. P05 has level-triggered play/pause function.

5) : Two-line serial control mode: controlled by MCU clock via CLK and DI data lines. Free to play voice at any address. In this mode, it has voice combination play function.

Audio content updates directly to SD card on the PC. The module supports FAT file system. Support AD4 of 6KHz ~ 32KHz, 36KHz sampling rate and WAV audio of 6KHz ~ 16KHz sampling rate.

Please notice that we can only supply two line serial control mode by default now, if you need other mode, please contact with us first, thanks very much.

Application :

1、Car parking systems, Reverse sensor, Reversing radar, GSM car anti-theft systems, TPMS(Tire Pressure Monitor System)

2、Central lock actuator, Home security system, Safely, Burglar alarm, Car alarm.

3、Home appliances (washing machine, induction cooker, rice cooker, electric pressure cookers, air conditioner and so on).

4、Medical equipment, Apparatus, Meters, Interment.

5、Intercom, Building intercom, video door phone, door bell, system of talk backing, Window control, Intrusion alarm.

6、Industrial Control system and any other products need voice messages.

Dimension :
 
Click to download the datasheet



下载pdf文档资料.pdf
Write a review

Loading ...
Join our newsletter today, to get latest product information and promotion code.

Loading ...