Ethernet PHY DM9161 Module For Taijiuino Due R2


Description :
The DM9161 is a physical-layer, single-chip, low-power transceiver for 100BASE-TX and 10BASE-T operations. On the media side, it provides a direct interface either to Unshielded Twisted Pair Cable 5 (UTP5) for 100BASE-TX Fast Ethernet, or UTP5/UTP3 Cable for 10BASE-T Ethernet. Through the Media Independent Interface (MII), the DM9161 connects to the Medium Access Control (MAC) layer, ensuring a high inter-operability among products from different vendors. The DM9161 uses a low-power and high-performance CMOS process. It contains the entire physical layer functions of 100BASE-TX as defined by IEEE802.3u, including the Physical Coding Sublayer (PCS), Physical Medium Attachment (PMA), Twisted Pair Physical Medium Dependent Sublayer (TP-PMD), 10BASE-TX Encoder/Decoder (ENC/DEC), and Twisted Pair Media Access Unit (TPMAU). The DM9161 provides a strong support for the auto-negotiation function utilizing automatic media speed and protocol selection. Furthermore, due to the built-in wave-shaping filter, the DM9161 needs no external filter to transport signals to the media in 100M or 10M Ethernet operation.
Since Atmel SAM3X8E used by Arduino Due or Taijiuino Due has pins for Ethernet, to get into internet, an Ethernet PHY module is needed. It is known that
ATSAM3X-EK
has DM9161 chip on board and the library is ready in AVR Studio. We designed this DM9161 module for
Taijiuino Due R2
. Just plug in and play.
Please notice : Arduino Due doesn't have Ethernet pins on board.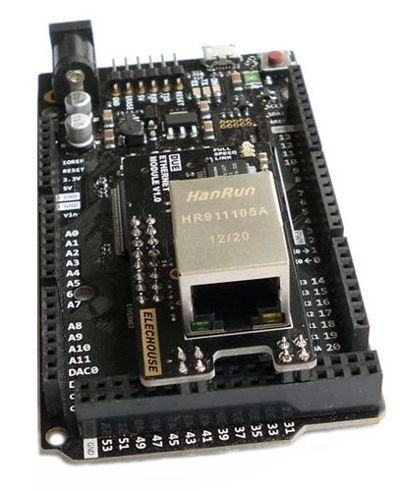 This module still has an TF/mini SD card slot on it. It could used to store data while necessary. After plugging it in Taijiuino Due, Pin 28 is the CS pin. You could find more information through this
download page
.
Download
Please visit the
download page
to get Schematic, Sample Code and simple Instruction.
Note
The software for Arduino is still in developing (supporting page:
[Finally a working EMAC library] Connecting an Ethernet PHY to Arduino Due
).
We refered to ATmel
ATSAM3X-EK
while designing this board. So Taijiuino DUE and this Ethernet module support AVR studio. If users develop with AVR studio, all the library for Ethernet is available.
Write a review

Loading ...
Join our newsletter today, to get latest product information and promotion code.

Loading ...