Wireless Module With Z-Wave Frequency -Arduino Compatible




Parameter :

1、Frequency band: 433/868~915MHz

2、Channel number: 170

3、Function: transmitter / receiver

4、Frequency stabilization method: PLL

5、Modulation mode: the FSK / GMSK

6、Maximum output power: 10dBm

7、Sensitivity:-100dBm

8、Maximum operating rate: 76.8Kbit / s

9、Working voltage: 2.7 - 3 .3 V

Pin Definition :
 

VCC     ---- Power supply.
TXE     ---- RF module mode selecting.
CE       ---- Enable RF module for transmit and receive.
PWR    ---- Power up chip.
CLK      ---- Output clock, divided crystal oscillator full swing clock.
CD       ---- Carrier detect.
AM      ---- Address matched.
DR       ---- Receive and transmit ready.
MISO   ---- SPI master input slave output.
MOSI   ---- SPI mater output slave input.
SCK     ---- SPI clock.
CSN    ---- SPI enable.
GND   ---- Ground
GND   ---- Ground

Example with Arduino :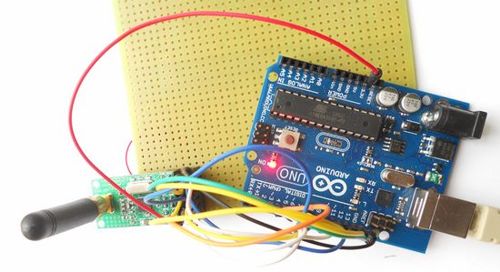 Connection With Arduino
 

Please refer to the manual for more information. 

Click to Download The Zip Document

Zip Document Include List :

1、Manual

2、Library for Arduino

Product List :

1、(Z-wave Wireless Module) x1

2、(7 pcs 1 to 1 Pin Wire) x2

Note: this item doesn't work on Z-wave protocol. It works on Z-wave frequency.
Write a review

Loading ...
Join our newsletter today, to get latest product information and promotion code.

Loading ...